Records Management in Chicago, IL
Midway Document Destruction provides the best records management to help you manage your organization's most important documents in Chicago, IL.  Our record retention and document destruction service protects your documents while you need them and securely destroys them when they are no longer necessary.
Record Retention
Midway can store your records professionally and securely at one of our local facilities. When using Midway:
You control how and when your records are accessed. Midway makes certain that your documents are protected at all times
You reduce your need for on-site storage, which helps you save real estate costs. Midway provides customized storage space for every size box or container
You can have records picked up according to a schedule or on demand. Midway transports your records from and to any of your locations so that so that they are available when needed
You establish the criteria for how long records should be kept and when they should be destroyed. Midway provides you with quick access to reporting about the status of all of your documents
All of our services are competitively priced and we offer superior customer support from our records management Specialists.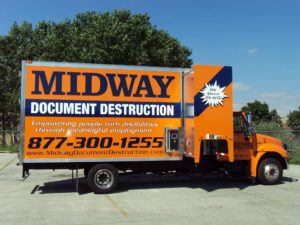 Midway Document Destruction's specialists are available to assist with every aspect of your account. Call us today for records and document management in Chicago, IL.
Why Choose Midway?
Free Estimates
24 Hour Surveillance
30+ Years of Experience
Full Service Self Storage
Certificates of Destruction
Keep Documents & Inventory Safe
Only Authorized Employees Can Visit
Can Deliver Records Whenever Needed
State-of-the-Art Document Destruction Facility